Unlimited Tournaments

No built-in limits on tournaments, teams, or anglers to hold you back.

Read more →

Powerful Page Customization

Add as many pages as your tournament needs, and customize however you like.

Read more →

Installs on Your Own Website

Integrates directly with your existing website or can be used as a full website.

Read more →

Powerful Software
The Web Pro Tournament manager is simply the best live
fishing tournament management software
ever created!

Built For Tournaments
Every tournament, team, and angler can have their own separate web page.

Fully Customizable
An unlimited amount of users can be entered into the system, each with different logins and passwords, as well as limited or full access.

Leasing
The Web Pro Tournament Manager is available for purchase or lease.
The decision is all yours!
Welcome to the Web Pro Tournament Manager.
We provide the power to make posting your live tournament results quick & easy!
Learn More
Buy Now
Web Pro Fishing Tournament Software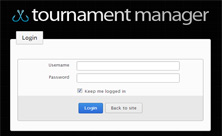 The 2014 fishing tournament season is in full swing!
Let Web Pro Tournament Manager be the brains behind your next live tournament. Our fishing tournament software will make running your next tournament a breeze!
Why Choose Us
Smart administration.
Unlimited tournaments, teams, and anglers.
Powerful page customization.
Intuitive and easy-to-use interface.
Installs on your own website.
Optimized for speed.
Great support for sponsors.